Online Master of Fine Arts in Interior Design
A personalized, online MFA
Credit for teaching experience
Request more information
Complete this form to receive information about coursework, admissions, tuition and more.
Duration

2 years

Cost per credit

$824

Credit hours

36
Program Benefits
Transfer up to nine credits
No GRE/GMAT
No application fee
Six start dates per year
Brenau University's Master of Fine Arts in Interior Design program features coursework in classroom preparation as well as teaching and assessing in an online environment. Personalize your degree by building your concentration with guidance from Brenau's expert faculty members. You'll complete a thesis and teach undergraduate interior design classes to earn this terminal degree and graduate prepared for advanced practice or academic positions.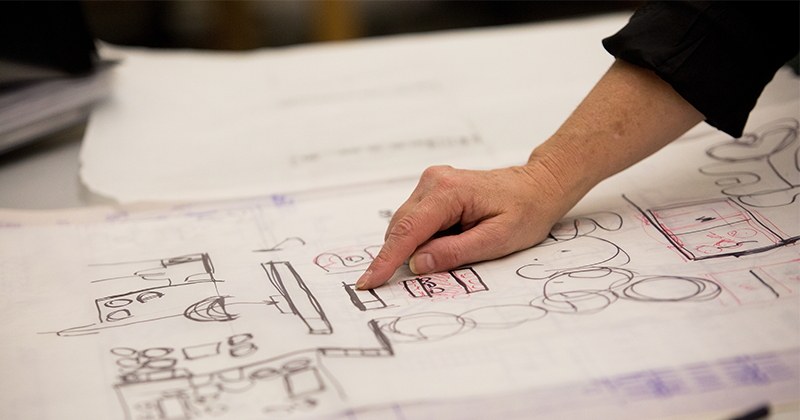 Advance in teaching interior design
An MFA in Interior Design will prepare you to pursue advancement opportunities for a more rewarding and meaningful career. Our graduates have found success in academia and interior design thanks to the skills and knowledge gained at Brenau. With this degree, you'll qualify for positions such as post-secondary professor ($89,803/year1) and director of interior design ($101,4152).
Career Outlook
Design your concentration for a customized degree
Personalize your MFA by building your concentration with help from Brenau's expert faculty. You'll receive guidance in pursuing the area of concentration that's right for you and continued support as you complete your study.
Complete a fully online curriculum
Complete coursework focused on research, instruction, virtual learning and more to earn your online MFA from Brenau. You'll write a thesis and teach an undergraduate class to graduate prepared for the next step in your career.
Course spotlights
ID 660 Interior Design Classroom Preparation
ID 661 Applied Interior Design Classroom Instruction
ED 677 Teaching and Assessing within a Virtual Environment
ID 680 Interior Design Research Methods
Curriculum Details
It's always a good time to apply
The online master's degree in interior design offers six start dates per year, so you can apply anytime and pursue your education as soon as possible. With no application fee, you can apply risk-free.
To apply to Brenau's online Master of Fine Arts in Interior Design, you'll need:
Undergraduate degree in Interior Design or Architecture
Official transcripts for all previously attended undergraduate and graduate institutions
Copy of updated professional resume/curriculum vitae
Portfolio of student work and/or professional work
Admission Details
We strive to make your education affordable
By choosing Brenau, you're investing in a degree that will set you on a path to a successful career. Along with affordable tuition, you can pursue federal financial aid to make your education even more cost-effective.
Tuition Details
What you'll learn
Explore topics including classroom preparation and instruction in the online Master of Fine Arts program from Brenau University. Graduate ready to advance in your career and pursue a rewarding position in teaching, interior design or architecture.
Program outcomes
With Brenau's online MFA in Interior Design, you can:
Demonstrate knowledge and techniques for evidence-based research and apply them to a design.
Research, plan, implement and assess undergraduate interior design courses.
Implement critical thinking skills as related to design analysis and project solutions.
Grasp links between professional practice and design research.
Express knowledge of critical issues in design education and research.
Exhibit competency in written and oral communication and visual literacy.
About our dedicated, supportive faculty
Faculty members at Brenau are dedicated to helping you succeed. Most classes feature a small student-to-faculty ratio, so you can get to know your professors and their unique areas of expertise. As you broaden your professional network, you'll have the mentorship and support of our faculty throughout your program.
Faculty spotlight
Margaret Gilchrist Serrato, Ph.D., MBA, AIA, ASID, LEED AP
Interior Design MFA Director
Margaret Gilchrist Serrato, Ph.D., has been a professor at Brenau University since 2003 and the director of Brenau's Interior Design MFA since 2019. Previously, she taught at the Atlanta College of Art, American Intercontinental University, Louisville Institute of Interior Design, Franklin College of Arts and Sciences and Converse College. Serrato's research interest is the relationship between building configuration and informal communication among knowledge workers. She regularly presents and publishes research through various professional organizations, including the Society for College and University Planning (SCUP), Tradeline, CoreNet, International Facility Management Association (IFMA), Building Owners and Managers Association (BOMA), NeoCon and the International Space Syntax Symposia. She earned her Ph.D. in Architecture, Culture and Behavior from the Georgia Institute of Technology. Serrato also holds an MBA, Master's in Architecture, Master's in Environmental Psychology and MFA in Interior Design.
Online learning
At Brenau, you will learn in small classes, which gives you plenty of opportunities to ask questions and receive one-on-one support from your professors. With flexible scheduling and online delivery, we make education fit into your busy life. Our programs respond to the needs of today's students, so you'll receive the education you need to become a leader who makes a difference. From here, you can.
Discover Brenau Online
Frequently asked questions
Explore our frequently asked questions for in-depth answers. If you don't find what you're looking for, reach out to us.
You can complete the program in two years, but transfer credits may reduce the time it takes you to earn this degree. To see the curriculum, view our courses page.
Tuition is $824 per credit hour. You'll need to complete 36 credit hours for a total tuition of $29,664. Transfer credits may reduce your total tuition. You can review all costs on our tuition page.
No, there are no entrance exams required. You can learn more about this policy on our admissions page.
Yes, the online MFA in Interior Design accepts up to nine transfer credits. You can learn more about our transfer credit policy on our admissions page.
The requirements for the online MFA in Interior Design include:
A completed online application
Minimum 3.0 undergraduate GPA
Official transcripts from each college you've attended
Bachelor's degree in interior design or architecture
Professional resume or CV
Portfolio of student or professional work
You can learn more about our requirements on our admissions page.
Students may propose their area of concentration for the MFA in Interior Design.
Visit our FAQ page
Sources
Payscale. "Average Salary for All Postsecondary Teachers/Professors/Associates/ Assistants." Retrieved Feb. 24, 2023, from https://www.payscale.com/
Payscale. "Average Design Director, Interior Design Salary." Retrieved Feb. 24, 2023, from https://www.payscale.com/