Online Graduate Business Analytics Certificate
Build skills in business analytics
Request more information
Complete this form to receive information about coursework, admissions, tuition and more.
Duration

1 year

Cost per credit

$824

Credit hours

12
Program Benefits
No application fee
Six start dates per year
Financial aid available
Supplement your knowledge and experience with a business analytics certificate
The business analytics certificate at Brenau is an excellent option for receiving formal training in data mining, statistics and strategy. With a graduate certificate, you will have additional qualifications that complement your existing degree and expertise. Graduate in one year ready to apply your skills to your current role or pursue a new job. Achieve your dreams at Brenau.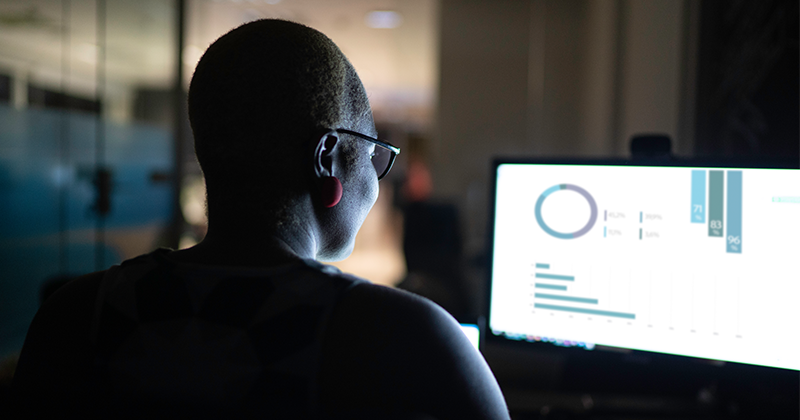 Gain a credential that will help you stand out in a growing field
With your Certificate in Business Analytics, you can pursue or grow in vital roles, including:
C-suite executive
Senior-level manager
Business analyst
Business consultant
Take your business career to a new level with your graduate certificate.
Supplement your business knowledge with analytics expertise
No matter how you want to use your business analytics education, our courses allow you to gain the skills you need for your aspirations.
Course spotlights:
BA 708 Business Statistics
BA 710 Applied Regression
BA 712 Data Mining
BA 713 Business Analytics Strateg
It's always a good time to apply
No work experience required
The online Certificate in Business Analytics offers six start dates per year, so you can apply anytime and start your education as soon as possible. With no application fee, you can apply risk-free.
To apply to Brenau's online Business Analytics Certificate, you'll need:
Official transcripts for all previously attended undergraduate and graduate institutions
Copy of updated professional resume/curriculum vitae
Admission Details
We strive to make your education affordable
By choosing Brenau, you're investing in education that will set you on a path to a successful career. Along with affordable tuition, you can pursue federal financial aid to make your program even more cost-effective.
Tuition Details
What you'll learn
Our graduate certificate coursework is designed to supplement your existing business knowledge to allow you to expand your business analytics career. When you complete the certificate program, you'll have the expertise you need to be competitive in this growing field.
Program outcomes
With Brenau's Certificate in Business Analytics, you can:
Assess strategic and tactical performance, preparing you to identify the right questions to ask and data to collect.
Analyze and interpret the data (with the support of the deep analytic talent, as needed), leading to actionable insights.
Prescribe and manage the actions to completion.
About our dedicated, supportive faculty
Faculty members at Brenau are dedicated to helping you succeed. Most classes feature a small student-to-faculty ratio, so you can get to know your professors and their unique areas of expertise. As you broaden your professional network, you'll have the mentorship and support of our faculty throughout your program.
James Taylor, PhD, Six Sigma Master Black Belt, Director of Business Analytics and Associate Professor of Management
Faculty Spotlight
James Taylor is an associate professor of Management at Brenau University. He earned a PhD in Technology Management – Quality Systems from Indiana State University in 2014, an MBA from the University of Chicago in 1990 and a BSME with honors from Tri-State University in Angola, Indiana, in 1983. He's also a certified Six Sigma Master Black Belt. Taylor's research interests include quantitative methods and process improvement, especially Six Sigma. He has been a member of the American Society of Mechanical Engineers since 1984.
Taylor has worked for 30 years in industry, including such areas as engineering, account management, project management, quality management and process improvement. In addition to his role at Brenau, he stays active in the field with a process improvement training and consulting practice, which has a client list that includes Bosch, Dana, IMS Gear, Kubota, Somic America and ZF.
Online learning
At Brenau, you will learn in small classes, which gives you plenty of opportunities to ask questions and receive one-on-one support from your professors. With flexible scheduling and online delivery, we make education fit into your busy life. Our programs respond to the needs of today's students, so you'll receive the education you need to become a leader who makes a difference. From here, you can.
Discover Brenau Online
Frequently asked questions
Explore our frequently asked questions for in-depth answers. If you don't find what you're looking for, reach out to us.
You can complete the program in as little as one year. To see the curriculum, view the program page.
This online program is designed for maximum flexibility and may be taken full-time or part-time, which allows you to achieve a realistic balance between work, school and personal responsibilities. To see the curriculum, view the program page.
Entrance exams are not required. You can learn more about our admissions policy on the program page.
The requirements for the online Certificate in Business Analytics include:
Minimum 3.0 undergraduate GPA
Bachelor's degree
Official transcripts from each college you've attended
Professional resume or CV
You can learn more about our admission requirements on the program page.
You'll complete 12 credit hours to earn the online Certificate in Business Analytics. You can review courses on the program page to learn more.
Visit our FAQ page