Online Education Specialist in Special Education
Take the next step in special education
Request more information
Complete this form to receive information about coursework, admissions, tuition and more.
Duration

1 year

Cost per credit

$824

Credit hours

31
Program Benefits
No GRE required
Expert faculty
Practical coursework
Move forward in your special education career with an online degree
With Brenau University's Education Specialist in Special Education program, you'll get guidance from expert faculty on the latest trends in special education. Our five-course research sequence will give you the opportunity to solve real-world problems in preparation to advance your career in special education and move into leadership roles.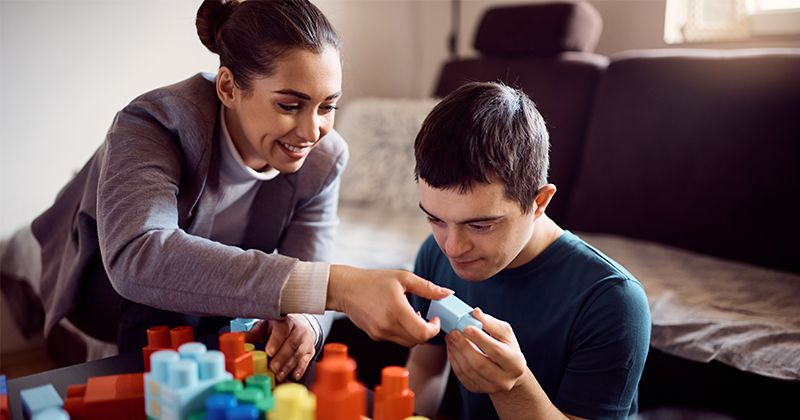 Get the most out of your degree
About 37,600 openings for special education teachers are projected each year,1 and with the right degree, you can become an ideal candidate. Upon graduation from Brenau's Education Specialist in Special Education program, you'll be prepared to teach with more confidence and increase your pay by moving into leadership positions.
Boost your teaching knowledge
This program provides practical coursework in special education that adapts to changes in the teaching landscape. Along with our core coursework, you will participate in a five-course research sequence where you'll identify issues in your school or community and explore creative solutions.
Course highlights:
ED 860 Leadership in Education
ED 870 Education Issues and Policy
ED 886 Introduction to Problem-Based Learning I
SE 891 Special Education Law
SE 892 Advanced Special Education Assessment
It's always a good time to apply
The online Education Specialist in Special Education program offers two start dates per year, so you can apply anytime and start your education as soon as possible. With no application fee, you can apply risk-free. To apply to Brenau's online Education Specialist in Special Education program, you'll need:
Bachelor's degree from a regionally accredited four-year college or university
Cumulative undergraduate GPA of at least 3.0 on a 4.0 scale
Master's degree in Special Education and PSC level 5 certification in Special Education
Official transcripts for all previously attended undergraduate and graduate institutions
Copy of updated professional resume/curriculum vitae
Admission Details
We strive to make your education affordable
By choosing Brenau, you're investing in a degree that will set you on a path to a successful career. Along with affordable tuition, you can pursue federal financial aid to make your education even more cost-effective.
Tuition Details
What you'll learn
The coursework in the online Education Specialist in Special Education program will give you the advanced knowledge and problem-solving experience you need to take the next step in your special education career.
Program outcomes
With Brenau's online Education Specialist in Special Education program, you can:
Demonstrate strong knowledge of content areas appropriate for your certification levels
Support the intellectual, social, physical and personal development of all students
Create learning environments that encourage positive social interaction, active engagement in learning and self-motivation
Understand and use a range of formal and informal assessment strategies to evaluate and ensure the continuous development of all learners
Design and create instructional experiences based on your knowledge of content and curriculum, students, learning environments and assessment
Recognize, participate in and contribute to education as a profession
Online learning
At Brenau, you will learn in small classes, which gives you plenty of opportunities to ask questions and receive one-on-one support from your professors. With flexible scheduling and online delivery, we make education fit into your busy life. Our programs respond to the needs of today's students, so you'll receive the education you need to become a leader who makes a difference. From here, you can.
Discover Brenau Online
Frequently asked questions
Explore our frequently asked questions for in-depth answers. If you don't find what you're looking for, reach out to us.
You can complete the program in as little as one year. To see the curriculum, view our program page.
Tuition is $824 per credit hour. You'll need to complete 31 credit hours for a total tuition of $25,544. You can review all costs on our program page.
There are no entrance exams required for this certificate.
The requirements for the Education Specialist in Special Education program:
Cumulative Graduate GPA of 3.0
Master's degree from a regionally accredited university
At least two years full-time teaching experience
Applicants must submit official college transcripts from all undergraduate and graduate institutions attended, resume and teacher certificate
Applicants must apply in the program that matches their initial certification
You'll complete 31 credit hours to earn the online Education Specialist in Special Education.
Those who hold an Education Specialist in Special Education often pursue career titles such as special education teacher, teacher assistant and educational therapist. Learn more about your career options by visiting our program page.
Visit our FAQ page
Source
U.S. Bureau of Labor Statistics. "Occupational Outlook Handbook: Special Education Teachers." Retrieved March 15, 2023, from https://www.bls.gov/