Online Master of Education in Middle Grades Education
Gain expert teaching skills for middle grades
Request more information
Complete this form to receive information about coursework, admissions, tuition and more.
Duration

1 year

Cost per credit

$824

Credit hours

33
Program Benefits
No application fee
Test scores are not required
Choose two concentrations
Two start dates per year
Financial aid available
Inspire and educate adolescent students
You're already a successful educator, but do you have the skills you need to advance? From here, you can.
The online master's degree in middle grades education is designed to give practicing educators the tools to stand out for competitive advancement opportunities. As a graduate, you can plan, implement and evaluate effective teaching practices through informed, reflective decisions.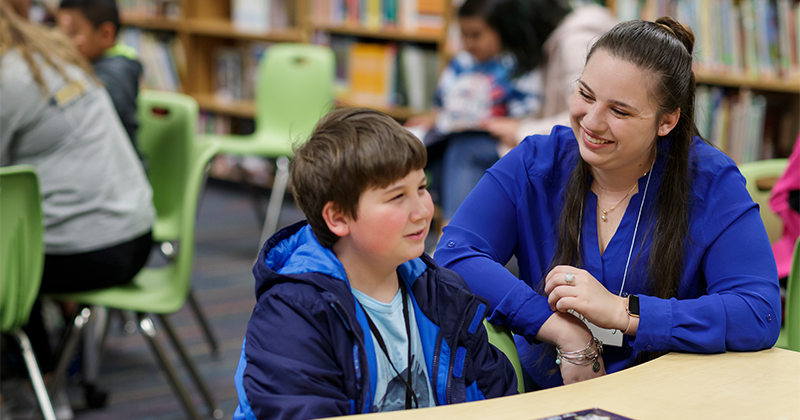 Increase your marketable skills and earning potential
With our Master of Education degree in middle grades education, you can increase your salary potential as a middle school teacher or pursue the following in-demand careers:
Educational therapist
Principal
Instructional leader
The U.S. Bureau of Labor Statistics projects that overall employment in education occupations will grow 7% from 2021 to 2031,1 and jobs for principals will grow 5% over the same time frame.2
Career Outlook
Choose two concentrations
Prepare to teach the subjects you're passionate about by choosing two concentrations from the following content areas.
Gain teaching expertise in two concentrations of your choice
In addition to core coursework in teaching, you will have the opportunity to take two concentrations. Your primary and secondary concentrations may be selected from language arts, mathematics, science or social studies.
Course spotlights
ED 771 Methods of Educational Research
ED 640 Advanced Language Arts Methods: Middle Grades
ED 638 Trends & Issues in Social Studies: Middle Grades
Curriculum Details
It's always a good time to apply
The online master's degree in middle grades education offers two start dates per year. With no application fee, you can apply risk-free.
To apply to Brenau's online M.Ed. in Middle Grades Education, you'll need:
Bachelor's degree in Middle Grades Education and PSC level 4 certification in Middle Grades Education
Official transcripts for all previously attended undergraduate and graduate institutions
Copy of updated professional resume/curriculum vitae
Copy of current teaching certificate
Admission Details
We strive to make your education affordable
By choosing Brenau, you're investing in a degree that will further your career. Along with affordable tuition, this program is eligible for financial aid.
Tuition Details
What you'll learn
The coursework in the online middle grades education master's degree is taught by faculty who listen to the concerns and needs of teachers in practice. We continually update the curriculum to reflect today's teaching environments.
Program outcomes
With Brenau's online master's degree in middle grades education, you can:
Be equipped to teach fourth through eighth grade in urban, suburban and rural education settings.
Address the distinct needs of the middle school years, including the social, emotional, cognitive and physical dimensions of healthy adolescence.
Discover and apply interdisciplinary theories and practices of middle grade learning.
Increase your potential employment options and career advancement.
About our dedicated, supportive faculty
Faculty members at Brenau are dedicated to helping you succeed. Most classes feature a small student-to-faculty ratio, so you can get to know your professors and their unique areas of expertise. As you broaden your professional network, you'll have the mentorship and support of our faculty throughout your program.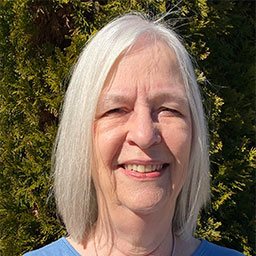 Karen Henman, PhD, Associate Professor of Science Education
Faculty Spotlight
Karen Henman moved from Indiana in 2010 to Gainesville, Georgia, to teach science education courses at Brenau University in the College of Education. Prior to her move, she taught middle school life, earth, physical and integrated science. During that time, she held various offices in the Hoosier Association of Science Teachers (HASTI), including the president and conference chair. Karen received her Bachelor of Science in Science Education from Ball State University, Master of Science from Indiana University and PhD in Curriculum, Instruction and Technology in Science Teaching and Learning at Indiana State University.
Dr. Henman has presented at numerous state and national conferences, including the National Science Teaching Association (NSTA), Georgia Science Teachers Association (GSTA) and HASTI. She has numerous publication articles about science teaching along with middle grades teaching resources in remote sensing. Some areas of research interest include academic achievement, self-esteem, motivation, environmental education, equity, inclusion and diversity.
Online learning
At Brenau, you will learn in small classes, which gives you plenty of opportunities to ask questions and receive one-on-one support from your professors. With flexible scheduling and online delivery, we make education fit into your busy life. Our programs respond to the needs of today's students, so you'll receive the education you need to become a leader who makes a difference. From here, you can.
Discover Brenau Online
Frequently asked questions
Explore our frequently asked questions for in-depth answers. If you don't find what you're looking for, reach out to us.
Tuition is $824 per credit hour. You'll need to complete 34 credit hours for a total estimated tuition of $28,016. You can review all costs on our tuition page.
We do not require test scores for admission to this program. You can learn more on our admissions page.
You'll complete 34 credit hours to earn the Master of Education in Middle Grades Education online. You can explore the curriculum page for further information.
All of Brenau's College of Education faculty have taught in public and private schools. Several faculty members also served as administrators before teaching in higher education.
By pursuing your master's degree in middle grades education online, you can gain the professional skills you need to advance your teaching career. Review the careers page for further information about your career options.
Visit our FAQ page
Sources
U.S. Bureau of Labor Statistics. "Education, Training, and Library Occupations." Sept. 8, 2022. Retrieved Feb. 9, 2023, from https://www.bls.gov/ooh/education-training-and-library/home.htm
U.S. Bureau of Labor Statistics. "Elementary, Middle, and High School Principals." Oct. 4, 2022. Retrieved March 3, 2023, from https://www.bls.gov/ooh/management/elementary-middle-and-high-school-principals.htm