Online Master of Education in Special Education
Broaden your special education experience
Request more information
Complete this form to receive information about coursework, admissions, tuition and more.
Duration

1 year

Cost per credit

$785

Credit hours

31
Program Benefits
No application fee
Test scores are not required
Two start dates per year
Financial aid available
Pursue your passion and advance in special education
You've found your calling in special education, but are you prepared to advance? From here, you can.
Confident and compassionate teachers — the kind of teachers Brenau has a reputation for graduating — continually find themselves highly sought after by school systems throughout Georgia. Our online special education master's degree helps you advance in several career paths, such as special education and administration.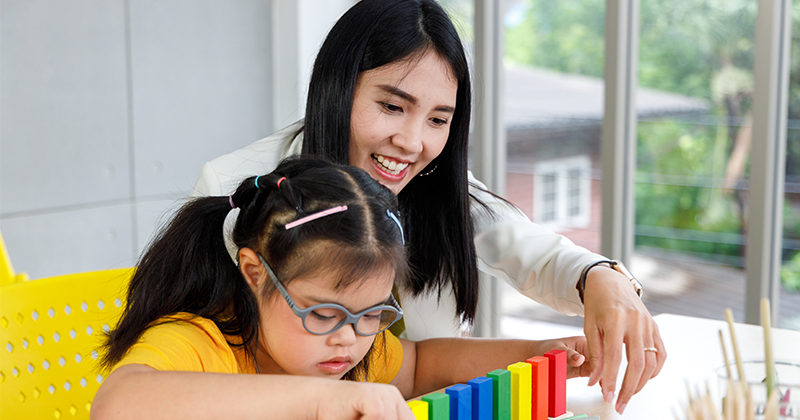 Go further in rewarding special education careers
The online master's degree in special education program develops and enhances leading-edge skills among practicing teachers. Once you graduate, you can boost your salary as a special education teacher in an elementary, middle or high school. You can also become a clinical case supervisor, educational diagnostician, rehabilitation counselor and more.
The U.S. Bureau of Labor Statistics projects that jobs for special education teachers will grow 4% from 2021 to 2031.1
A comprehensive special education degree
In addition to core coursework in the field, the online master's degree in special education has one area of content concentration, autism, which is built into the program.
Course spotlights
SE 702 Nature & Needs of Students with Autism Spectrum Disorder
SE 704 Seminar in Special Education: Supervision and Trends
ED 770 Advanced Curriculum Development & Analysis of Teaching
Curriculum Details
It's always a good time to apply
The online Master of Education in Special Education offers two start dates per year. With no application fee, you can apply risk-free.
To apply to Brenau's online M.Ed. in Special Education, you'll need:
Bachelor's degree in Special Education and PSC level 4 certification in Special Education
Official transcripts for all previously attended undergraduate and graduate institutions
Copy of updated professional resume/curriculum vitae
Copy of current teaching certificate
Admission Details
We strive to make your education affordable
By choosing Brenau, you're investing in a degree that will further your career. Along with affordable tuition, this program is eligible for financial aid.
Tuition Details
What you'll learn
The coursework in the online special education degree program is taught by faculty who listen to the concerns and needs of teachers in practice. We continually update the curriculum to reflect today's teaching environments.
Program outcomes
With Brenau's online master's degree in special education, you can:
Plan, implement and evaluate teaching practices intended for special needs learners.
Become more confident and compassionate as you help students persist toward their educational goals.
Reflect on your and your students' growth as you set short- and long-term goals.
Increase your potential employment options and career advancement opportunities.
About our dedicated, supportive faculty
Faculty members at Brenau are dedicated to helping you succeed. Most classes feature a small student-to-faculty ratio, so you can get to know your professors and their unique areas of expertise. As you broaden your professional network, you'll have the mentorship and support of our faculty throughout your program.
Online learning
At Brenau, you will learn in small classes, which gives you plenty of opportunities to ask questions and receive one-on-one support from your professors. With flexible scheduling and online delivery, we make education fit into your busy life. Our programs respond to the needs of today's students, so you'll receive the education you need to become a leader who makes a difference. From here, you can.
Discover Brenau Online
Frequently asked questions
Explore our frequently asked questions for in-depth answers. If you don't find what you're looking for, reach out to us.
It will not. The diploma is the same for all graduates, whether their program was completed online or on ground.
While the specifics of each program vary, the admissions process always starts by submitting your application for the program you want to attend. To complete your application file, you'll need official transcripts, an online application and possibly other documents. Your admissions counselor will help guide you through this process.
Undergraduate students can transfer up to 90 credits to their program. If the student is pursuing their first graduate degree at Brenau, up to six semester hours of coursework taken at another regionally accredited institution of higher education may be appropriately transferred to Brenau as part of the planned program of study with approval from the department chair. If the student has a master's degree, up to nine hours of graduate credit may transfer with departmental approval. Grading standards of the Brenau program into which the work is transferred will apply.
There are no application fees at Brenau University.
Absolutely! Online programs at Brenau are explicitly designed with busy working professionals in mind, including those with personal and professional responsibilities. The format provides the flexibility you need to succeed in your selected program. From here, you can.
Visit our FAQ page