Online Non Profit Leadership Certificate
Pursue a meaningful career in nonprofit leadership
Request more information
Complete this form to receive information about coursework, admissions, tuition and more.
Duration

1 year

Cost per credit

$785

Credit hours

12
Program Benefits
No GRE/GMAT
No application fee
Six start dates per year
Become an inspirational leader in nonprofit management
In Brenau University's 100% online Nonprofit Leadership Certificate program, you'll learn from expert faculty in flexible classes as you prepare for the next step in your career. Strengthen your capacity for effective entrepreneurial leadership, and build expertise in fundraising, management, grant writing and more in this certificate program built for working professionals. Finish your Nonprofit Leadership Certificate in just one year. From here, you can.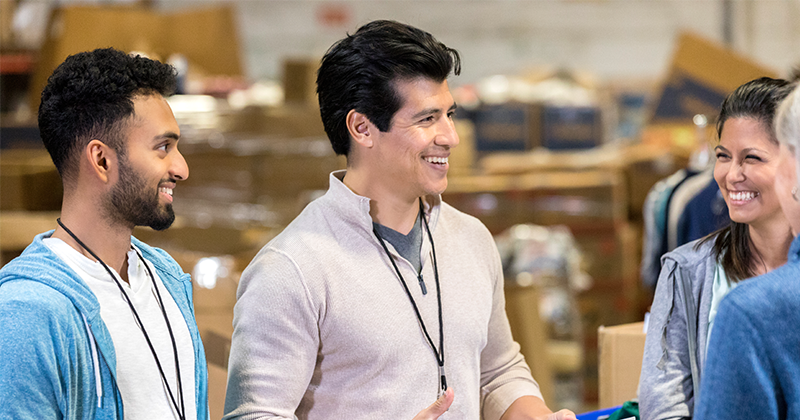 Advance in nonprofit leadership with an online certificate
A 100% online Nonprofit Leadership Certificate from Brenau University is your first step toward a more meaningful career. On average, individuals who hold a Nonprofit Leadership Certificate earn $75,000 per year,1 making this career path lucrative as well as fulfilling. Complete your certificate in just one year, ready to pursue roles such as social and community service manager ($74,000 per year2) or executive director ($82,956 per year3).
An online certificate for impactful skills
Complete 100% online coursework to earn your Nonprofit Leadership Certificate from Brenau. This graduate certificate program requires four courses totaling 12 credit hours and can be finished in just one year.
Course spotlights:
OL 620 Volunteer Leadership and Board Governance
OL 630 Fundraising Principles and Practice
OL 720 Not-for-Profit Marketing and Branding
OL 760 Principles of Grant Writing for Nonprofits
It's always a good time to apply
The online certificate in nonprofit leadership offers six start dates per year, so you can apply anytime and start your education as soon as possible. With no application fee, you can apply risk-free.
To apply to Brenau's online Non Profit Leadership Certificate, you'll need:
Official transcripts for all previously attended undergraduate and graduate institutions
Copy of updated professional resume/curriculum vitae
Admission Details
We strive to make your education affordable
By choosing Brenau, you're investing in an education that will set you on a path to a successful career. Along with affordable tuition, you can pursue federal financial aid to make your education even more cost-effective.
Tuition Details
What you'll learn
With a Nonprofit Leadership Certificate, you'll be better positioned to lead the charge for better services in your community or organization. Learn online, on your schedule, with support from expert faculty members to finish your certificate in just one year.
Program outcomes
In Brenau's online certificate in nonprofit leadership program, you will:
Learn the skills required for the mission and the critical processes of any nonprofit agency.
Gain expertise in fundraising and donor relationships.
Learn to work with a board of directors to effectively further your organization's mission.
Online learning
At Brenau, you will learn in small classes, which gives you plenty of opportunities to ask questions and receive one-on-one support from your professors. With flexible scheduling and online delivery, we make education fit into your busy life. Our programs respond to the needs of today's students, so you'll receive the education you need to become a leader who makes a difference. From here, you can.
Discover Brenau Online
Frequently asked questions
Explore our frequently asked questions for in-depth answers. If you don't find what you're looking for, reach out to us.
It will not. The diploma is the same for all graduates, whether their program was completed online or on ground.
While the specifics of each program vary, the admissions process always starts by submitting your application for the program you want to attend. To complete your application file, you'll need official transcripts, an online application and possibly other documents. Your admissions counselor will help guide you through this process.
Undergraduate students can transfer up to 90 credits to their program. If the student is pursuing their first graduate degree at Brenau, up to six semester hours of coursework taken at another regionally accredited institution of higher education may be appropriately transferred to Brenau as part of the planned program of study with approval from the department chair. If the student has a master's degree, up to nine hours of graduate credit may transfer with departmental approval. Grading standards of the Brenau program into which the work is transferred will apply.
There are no application fees at Brenau University.
Absolutely! Online programs at Brenau are explicitly designed with busy working professionals in mind, including those with personal and professional responsibilities. The format provides the flexibility you need to succeed in your selected program. From here, you can.
Visit our FAQ page
Sources
Payscale. "Salary for Certification: Nonprofit Leadership." Feb. 27, 2023. Retrieved March 8, 2023, from https://www.payscale.com/
U.S. Bureau of Labor Statistics. "Social and Community Service Managers." Sept. 8, 2022. Retrieved March 8, 2023, from https://www.bls.gov/
Payscale. "Average Executive Director Salary." Retrieved March 8, 2023, from https://www.payscale.com/